Paris has been a revelation in so many ways; firstly, I have fallen even more in love with fashion than ever before, with just a little help from the fashion galleries, Chanel boutique and the all encompassing Parisian chic. Secondly, I have decided that a wardrobe transformation for the coming season is a must, commencing with a trip to Zara...
Oh Zara... I burn, I pine, I perish! After spotting a girl on the Tube in tailored, cropped chinos, khaki chinos, paired with simple leather sandals and a black strapless top, I was desperate to own the same. So, Paris arrived with a myriad of Zara shops, and for a measly 30€ I started my personal wardrobe transformation. I also intend on owning an A- line, hooded and thickly knitted waistcoat, with the most covetable leather toggle fastenings; the perfect pair of knee high, medium heeled boots; and a sleekly elegant trench coat.
Of course, none of these purchases will be student- budget cheap , but I fully intend on pairing them with my recent charity shop acquisitions. A
£
5.99 Dolce & Gabbana men's shirt; oversized but perfect belted with the sleeves rolled up- a nonchalant 'oh look I just threw on my boyfriend's shirt' look. And also, a
£
2 steal of a bag that saw me stylishly around Paris; black, patent and crocodile skin- esque, it fits in absolutely with the current trend for lady- like chic. It's shape, size and general appearance is is remarkably similar to Nancy Gonzalez's current line, which I saw in a brief visit to Harrods, before catching the Eurostar.
(From www.the-anthology.com, not me!)
Furthermore, Paris proved a bag heaven for accessory- philes such as myself. Trips to Gucci, Louis Vuitton and Chanel only fuelled this obsession; nothing found on the high street can meet the patent glamour of Gucci, the luxury of a leather, richly studded trunk from Louis Vuitton, or especially the draw of a classic such as the 2.55 Chanel hand bag, an infatuation that my 31 Rue Cambon visit only increased. Notably, I spotted in Paris two bags which I would do ANYTHING to own (start saving?Possibly...). Firstly a Lady Dior in shiny, patent scarlet, in the crook of the arm of 'une fille trs chic', also sporting an enviable trench; and secondly my first ever sighting of a classic Herm
è
s Birkin. This was slung on the arm of a less chic woman- tight, white jeans (oh how I detest white jeans!) stacked heels and a perma tan. But somehow, the Birkin eclipsed all of this; in its subtle- yet- immortal shape, the softest of calf leather and elegant amber shade, this bag personifies the timeless, pared back aesthetic of Autumn/ Winter '10, as well as being a true life time classic.
I burn, I pine, I perish....
The Lady Dior- Marion Cotillard on the Eiffel Tower
The Classic: Chanel 2.55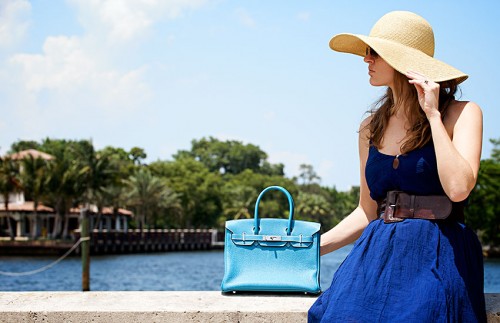 And finally... the Hermes Birkin, in a divine shade of blue.