Ok! magazine. Don't Tell The Bride. Countless chick flicks which all end in one big fat wedding (because that's all women should aspire to, right?)
This recent landslide of nuptial- filled images has created something far from the 'fairy tale' romance they feign to offer. Encouraged by the awkwardly posed and publicity- paid for celeb weddings, as well as the slew of bridal- inspired programmes that now dominate our television screens, it seems that all the world now wants a part in these tacky celebrations of matrimony. The vast sums of money, the hideous (-ly expensive) white polyester meringue, hired suits, brash flower displays... does it not all appear just a tiny bit vulgar?
I first thought up this article idea in reaction to an indescribably horrific wedding invitation that my parents received. On first glance I thought the invite, written as 'poetry' in rhyming couplets (to symbolise their everlasting love, perhaps?) was bad enough. However, as I read on, I realised that wasn't the worst of it. At the very bottom of the card, hidden among the florid font and bad poetry, was a request for cash as a wedding present. Or cheque, I don't think they minded much.
The invitation was the catalyst for my developing views on current weddings. Gone is a celebration of love among your closest friends and family, and in are vulgar displays of faux romance, complete with a final bill running into the tens of thousands. I wasn't as much put out by the style of the aforementioned invitation, but the underlying message that this young family had obviously spent all their money on this wedding, and were now having to ask for cash from their guests, left a very sour taste in my mouth.
Weddings shouldn't be about ticking off a checklist of venue, dress, catering, suits, bridesmaids' dresses, hair and makeup etc etc etc. Do what you want, I say. Celebrate in a way that demonstrates you and your love for one another, not a carbon copy of Katy Price's last wedding in Hello magazine. Be creative. You don't have to wear a homogeneous white polyester meringue, with a sweetheart neckline and matching nylon dresses for your bridesmaids. First and foremost it's a fire hazard, and secondly it looks (to me) incredibly vulgar.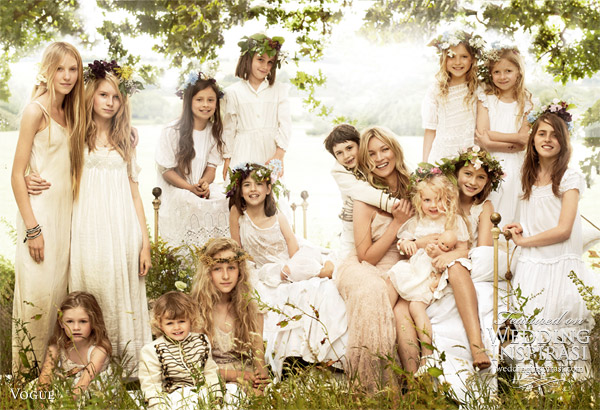 Instead, take inspiration from Kate Moss, who added her distinct personal flair to the occasion. Inspired by the Great Gatsby, Moss wanted her wedding to be 'soft-focused' and 'dreamy'; she completed the look with 30s style John Galliano couture dress. However, if your budget can't stretch that far, I suggest opting for an authentic vintage gown, the most stylish of which can be found at
thevintageweddingdresscompany.com
, which is recommended by Vogue. My favourite from their selection is this 1920s beaded dress, which has the most divine back I've ever seen.
If you're really limited financially, then for God's sake don't blow your entire savings on the supposed 'best day of your life' (I like to think there'd be a lot more great days in your life too, thanks). There are countless vintage boutiques and stalls popping up over the country where, if you hunt hard enough, treasures can be found. Even if it's just the fabric that you fall in love with, collaborate a sewing machine- savvy friend to create a gown entirely to your taste. Simply flower displays, which can be homemade, can complement hand made invitations and table decorations. Round up friends and family and ask them to help with small tasks, meaning that when the day comes your wedding will be a true communal experience, with every guest feeling like they're part of something special.
Then just add copious amount of alcohol, a great playlist and a large dance floor, and have a day you'll never forget.
Images from:
khloekardashian.celebuzz.com
www.weddinginspirasi.com
www.thevintageweddingdresscompany.com